Ken Eldred
Holding his third, newborn son in 1975, Ken Eldred embarked on an entrepreneurial venture.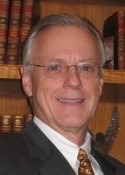 Inmac was under-funded, under-manned and facing serious challenges, but Ken had a deep commitment to seek God's priorities and use the business to further God's kingdom. The company experienced ups and downs, and a decade later, Inmac went public among enormous growth. Ken was named Silicon Valley's "Entrepreneur of the Year." Throughout the journey, he held firm to a commitment to God's priorities, which required him to limit his workweek to 40 hours. Ken found a deep level of work-faith integration and balance were the key to resolving the tension between his spiritual life and his career. He reveals in this book how it can be done.
Ken Eldred is currently CEO of Living Stones Foundation and Chairman of the Board of Advisors of Parakletos @ Ventures. For over 20 years, Ken served as CEO of Inmac, a public company he founded. He has assisted in the founding of several other successful companies, including Ariba Technologies, which led the Internet business-to-business industry. Ken is involved in ventures in the US, China, Europe and India, and he advises various Kingdom business ventures and ministries.
Ken has BA and MBA degrees from Stanford and was a Visiting Fellow at Stanford's Hoover Institution. He has been awarded an honorary Doctor of Laws degree from Belhaven College. Ken and his wife, Roberta, have three sons and spend their time in Texas and Colorado.
Previous Writing
Ken Eldred,

God Is at Work: Transforming People and Nations Through Business

, Regal Books, 2005 & Manna Ventures, 2009.

Named the number one book in the field by the Business as Mission Network
Published in English, Spanish, Korean, Bulgarian, Chinese (traditional script); upcoming publication in Portuguese

Kenneth A. Eldred & Tetsunao Yamamori, eds.,

On Kingdom Business: Transforming Missions Through Entrepreneurial Strategies

, Crossway Books, 2003.

Winner of a 2004 Christianity Today Book Award
Published in English and Korean